The South Downs Way National Trail offers stunning countryside views and there are many ways to enjoy the trail. If you are wanting shorter or circular walks along the route, without wanting to walk from one end to the other, then we've listed 5 walks you can do incorporate the Way.
1. Cheesefoot Head to Winchester (same route there and back)
Parking: Cheesefoot Head car park is in Hampshire – view the what3words location at ///foam.jabs.amending. 
Distance: 7.4 miles to Winchester and back
From the car park, cross the main road you turned in from and you can follow the South Downs Way signs into Winchester (very easy to follow). The South Downs Way from here is a nice gentle descent from Cheesefoot Head (can be muddy at times) and then you cross over the bridge over the M3. The path then brings you out on Petersfield Road in Winchester and from here you are almost at the city centre.
Once in the city centre, in Winter you can enjoy the Winchester Christmas Markets and Winchester Cathedral is a must-visit. There are many restaurants and pubs here to get food before you retrace your steps back to the car park.
This is a great little walk if you don't want the hassle of parking in Winchester, and you can enjoy a well-deserved meal (or drink!) afterwards before walking back!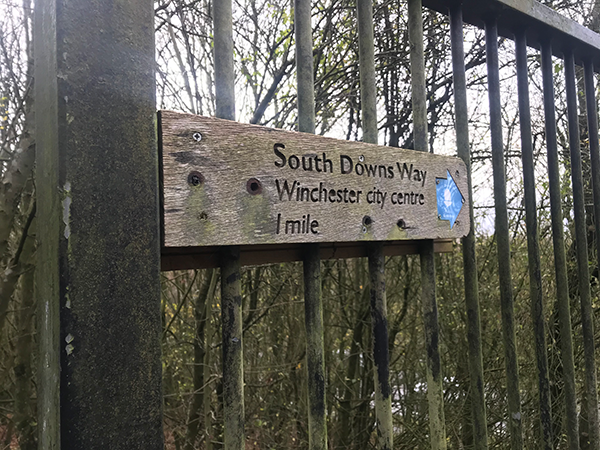 2. Ditchling Beacon
Parking: Jack and Jill Windmills, Mill Ln, Clayton, Hassocks BN6 9PG – view the what3words location at ///incursion.gravy.chain.
From the Jack and Jill Windmill car park take a left and follow the South Downs Way signs as the path gently ascends. You will eventually reach Ditchling Beacon and the dew pond on your right and can enjoy stunning views of Brighton and the Weald.
When you reach Ditchling Beacon car park, you can carry on along the ridge along the South Downs Way. When you have walked enough, retrace your steps back to the car park.
This is a great spot for a walk as you can enjoy Jack and Jill windmills at the start of the walk and then enjoy the far-reaching views the further on you go. There is usually a coffee van at the car park on weekends, but we always recommend bringing snacks and drinks with you!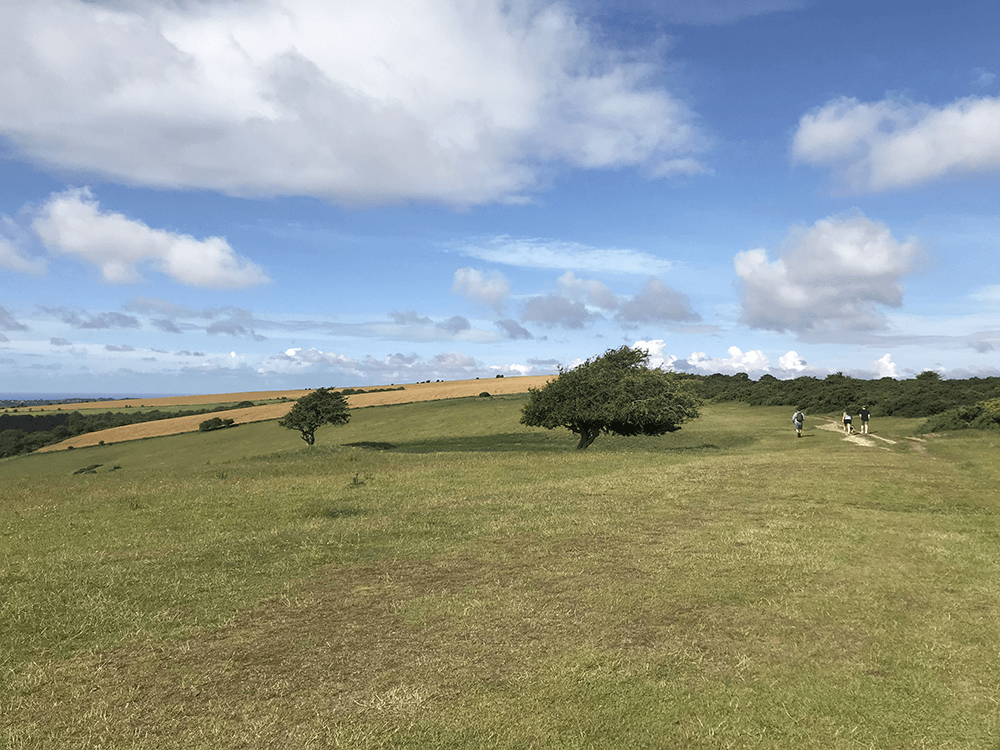 3. Chanctonbury Ring Loop
Parking: Washington South Downs Way car park, nearing Washington Bostal – view the what3words location at ///corrects.blotchy.targeted. 
This circular 3-mile walk starts in Washington, West Sussex and takes you up to Chanctonbury Ring. The car park in Washington is free, there are full route directions on our Chanctonbury Ring walk page for you to follow. At the top, you can experience wonderful views and also walk around the ring of trees at the top which is an old Iron Age fort.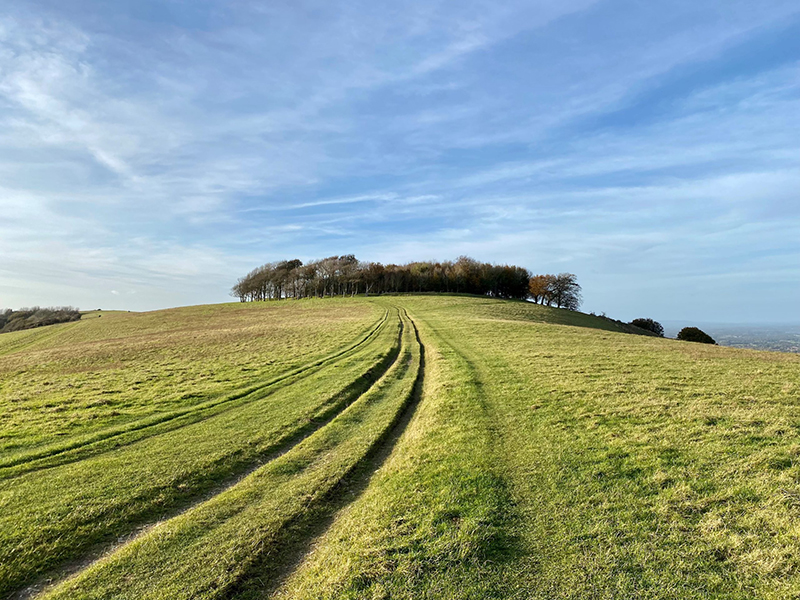 4. Bignor Hill
Parking: Whiteways, Bury Hill, Houghton, Arundel, BN18 9FD – what3words location at ///gems.nurse.falls.
This walk starts at Whiteways car park, just off the roundabout from London Road, Arundel. From the car park and the main road behind you, ascend through the forest. There are many footpaths to take through the forest – our Bignor Hill walk has a map with the actual route we took through the forest and a full route guide.
When you leave the forest, you end up walking along The Denture. A right here will take you to the Bignor Hill car park. From there, you walk up Bignor Hill with spectacular views and the path then loops around to bring you back to Whiteways car park.
The route takes approximately 5.5 miles to do and is lovely on a sunny day where you can enjoy a picnic at Bignor Hill.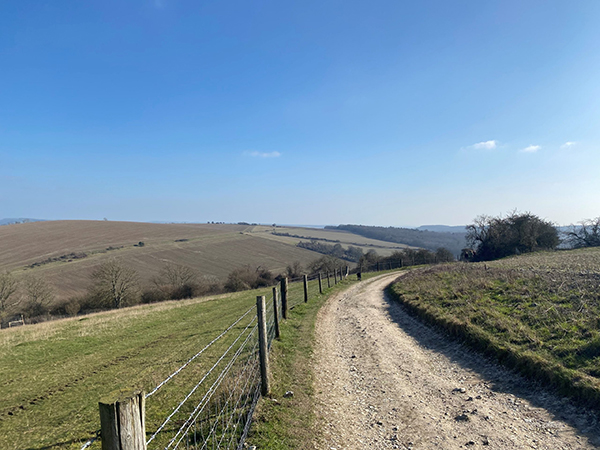 5. Chantry Post/Kithurst Hill, Storrington
Parking: Chantry Post Car Park, Storrington, RH20 4AB – what3words location at ///fine.headless.unity.
This walk begins at the Chantry Post Car Park on the South Downs Way. It is a circular walk of about 3.5 miles and has a gentle decline anti-clockwise before heading upwards to Kithurst Hill.
This walk starts at the Chantry Post Car Park on the South Downs Way, just south of the village of Storrington. From here you head South, off the South Downs Way down to Lee Farm, before heading over to Kithurst Hill and back on a short stretch of the South Downs Way, returning to the car park.
For a full walk guide, see our Chantry Post walk guide.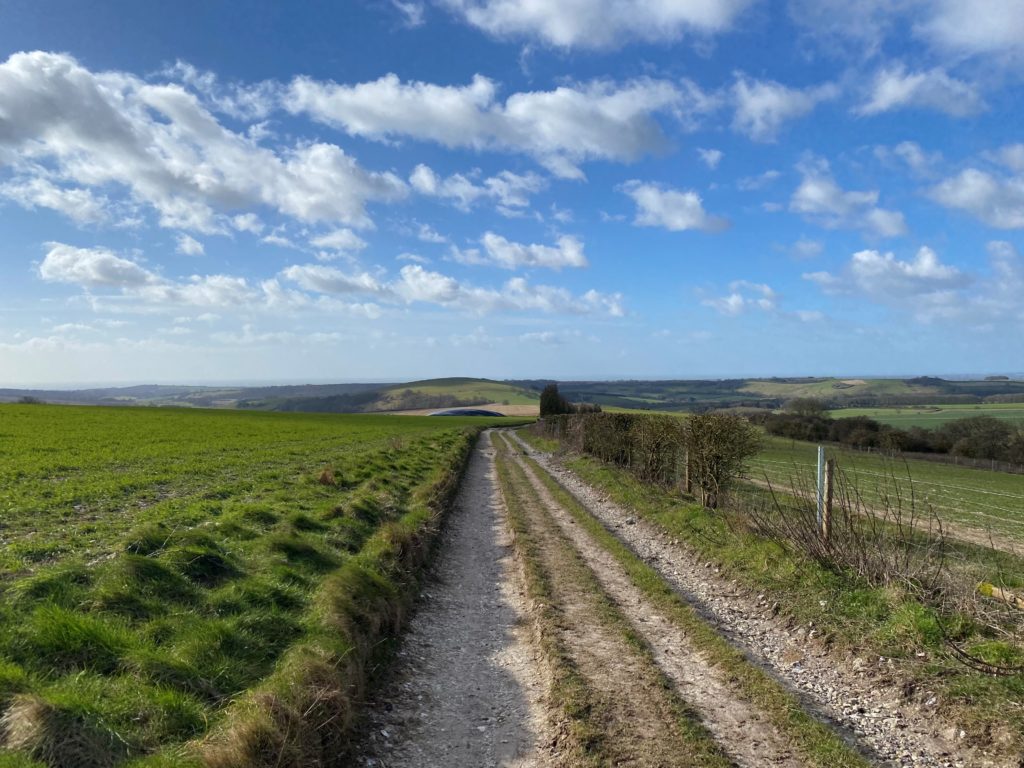 For more ideas for walks, check out our walks in Sussex page, full of our favourite tried and tested walks! If you are walking the South Downs Way, we have a full guide!