Updated July 2023
One great change to make is to cut down on the amount of plastic we use on a daily basis. Increasing our usage of refill shops is a great place to start and there are a surprising number of fantastic refill shops right on our doorstep in Sussex.
Not only do a lot of these refill shops have an extensive selection of plastic-free products, but many of their products are also sourced locally and ethically, making them great supporters of the local community. Most shops accept any clean containers you have in which to fill with the items of your choice or they usually have paper bags should you forget! We have rounded up a list of our favourite refill shops across East and West Sussex so why not find one close to you and pop along to see what they offer!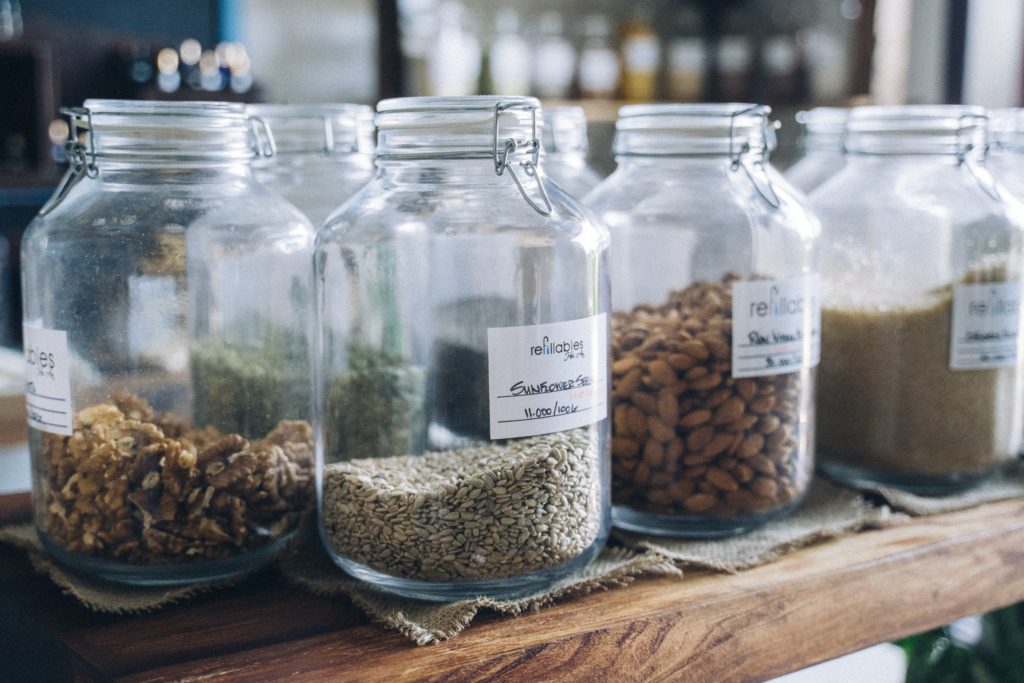 Wonderfill (St Leonards on Sea)
Wonderfill is owned by Hannah Robbins, who opened the plastic-free shop in July 2019. The shop is located on King's Road in St Leonards, just west of Hastings and sells a range of food, toiletries and cleaning products. You can also pick up a range of reusable or lower waste items such as refillable water bottles and eco-friendly soaps, candles and washing up brushes.
Address: Wonderfill Ltd, 35 King's Road, St Leonards on Sea, East Sussex, TN37 6DX
Harriet's of Hove
Harriet's of Hove is a little gem on a small shopping street in Hove, selling an array of foods, including a good selection of organic and vegan food. They also sell household products, toiletries and have some great gift ideas. You can visit their store, click and collect, or they offer local delivery on all their items in-store and UK wide delivery on most items in store!
Address: Harriet's of Hove, 48 Blatchington Road, Hove, East Sussex, BN3 3YH
Best Health Food (Uckfield, Shoreham, Worthing)
Best Health Food has three stores across Sussex, in Uckfield, Shoreham-by-Sea and in Worthing. All stores contain zero waste stations and sell an array of vegan, vegetarian, gluten-free and organic products.
Address (Uckfield): Best Health Food Shop, 90 High Street, Uckfield, East Sussex, TN22 1PU
Address (Shoreham): Best Health Food Shop, 33 East Street, Shoreham-by-Sea, West Sussex, BN43 5ZD
Address (Worthing): Best Health Food Shop, 27 Broadwater Street West, Worthing, West Sussex, BN14 9BT
Scrapless (Burgess Hill)
Scrapless, founded by Meg, is bursting full with over 250 refill items, sourced from local producers and growers where possible. Simply bring whatever containers you can find, from Tupperware and containers, to bottles and jars and fill these up with their plastic-free goodies.
Address: Scrapless, Trading Spaces, 25-29 Martlets Shopping Centre, Burgess Hill, RH15 9NN
Refilled (Chichester)
Refilled Chichester is located on North Street in the heart of Chichester city centre. They stock a range of dried goods, chocolate, teas and coffees and they also stock a good selection of Zest for Taste oils and vinegars. Pick up in-store or they also offer home deliveries.
Address: Refilled Chichester, 30 North Street, Chichester, West Sussex, PO19 1LX
The Greenhouse (Pulborough)
The Greenhouse is located just north of Pulborough along Stane Street and sells a range of fresh fruit and vegetables, as well as refills for dried goods, cleaning products, household products and toiletries. Visit in store or you can order online and collect in store.
Address: The Greenhouse at Stane Street, Stane Street Nurseries, Stane Street, Codmore Hill, Pulborough, RH20 1BQ
Buy The Weigh (Ticehurst)
Buy The Weigh was founded by Susan and Rob, at the beginning of the Covid-19 pandemic in March 2020. Located in the heart of Ticehurst village, Buy The Weigh sells a good selection of dried goods, oils and vinegars, fresh locally made bread and pastries, cleaning products, toiletries, and homeware items. Their stocked items aim to be a least one of the following: locally sourced, organic, gluten-free, vegetarian, vegan, ethically sourced, or biodegradable. Buy The Weigh also picked up the Best Zero-Waste Retail Enterprise – UK award in The Global Green Business Awards 2021 and the Muddy Stilettos Best Covid Start-Up Business 2021 award – not bad!
Address: Buy The Weigh, 28 High Street, Ticehurst, Wadhurst, East Sussex, TN5 7AS
Simply Weigh (Hailsham)
Located just off the High Street in Hailsham, Simply Weigh stocks an extensive range of refill products, many of which are also vegan or gluten-free. They also have a great range of Faith in Nature refill liquids, including shampoos, conditioners, and body washes. Pick up in-store or they also offer a click and collect service.
Address: Simply Weigh, 2b St Mary's Walk, Hailsham, East Sussex, BN27 1AF
EcoSwap (Bognor Regis)
EcoSwap was founded by Gemma Hawkins with the shop opening in Bognor Regis just a few weeks before the first Covid-19 lockdown in March 2020. The shop is stocked full of local produce, refill items, pet supplies, gifts and homeware and garden items. Not sure if they'll have what you need? Then check out their website where you can have a virtual tour of their shop!
Address: EcoSwap CIC, 1 Sussex Place, High Street, Bognor Regis, West Sussex, PO21 1EG