Chichester
Chichester is a Roman cathedral city and the only city in West Sussex. Its historical evidence of Roman settlement can be found all over the city, including some Roman baths, a city wall (which was replaced by a Georgian wall), an amphitheatre which is now a park and the old Roman road State Street linking Chichester with London.
It has a plethora of grade II listed buildings and other points of interest include the Chichester City Cross which is a type of butter market and sits in the centre of North, East, South and West streets. The City Cross was built in 1500 by Bishop Edward Storey as a shelter for people who sold their wares on market day.
Chichester City Centre
The city is mostly pedestrianised so it makes shopping a pleasant experience as the shops are mostly centered around the North, East, South and West Streets from Chichester Cross. The actual centre of Chichester has very wide pedestrianised streets so it makes it a very safe and spacious shopping experience! There are lots of spaces to enjoy lunch outside and the Cathedral and museum are right in the heart of the city.
Things to Do and Where to Eat
There are plenty of things to do in and around this historic city! You can see a show at the renowned Chichester Festival Theatre, visit Goodwood Races including the Festival of Speed, explore the Cathedral and shops in the city centre, and also visit Chichester Harbour.
Below we have listed some of our recommended places to grab coffee or lunch and things to do in Chichester.

Chichester Cathedral History
The cathedral, built in the 11th century, is a must see and a great place to wander down the cobbled floors and admire the architecture. Chichester Cathedral replaced the cathedral that was founded in 681 in Selsey, which is about eight miles south of Chichester. The cathedral, now in an area with a higher population, began being constructed in 1076 and was finished in 1008. The bell tower is detached and this, along with the spire and cloisters of the cathedral, were built around 1400.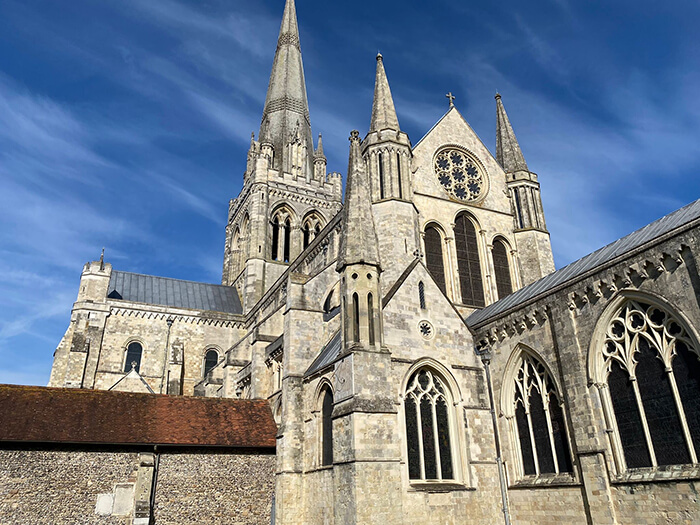 The Novium Museum
If you are visiting Chichester we highly recommend visiting the Novium Museum, right in the heart of the city. The museum is free to enter to visit the ground floor and first floor and the top floor features exhibitions, as well as a must-see view of Chichester cathedral and the rooftops (even take a look at the unique chimney tops – some are Fareham chimney pots that were major producers of chimney pots in the south-east).  The museum is built on the remains of a Roman bathhouse and there is plenty to see and learn here for all ages – with artefacts from the area, the Chilgrove mosaic and Roman heritage.
Bishops Palace Gardens
From the cathedral, you can meander over to the Bishops Palace Gardens, which are very quiet and a lovely spot to read or rest your legs and a true hidden paradise! There are many places to sit in the gardens, amongst the beautiful borders and flowers, water features and pergola walk.
If you want a peaceful area to sit and relax, then this is the ideal spot and we love visiting the gardens to enjoy a coffee and sit and listen to the birds and enjoy the beautifully maintained gardens. The gardens are open from 8am till dusk and just a short walk through the cloisters which open onto Canon Lane.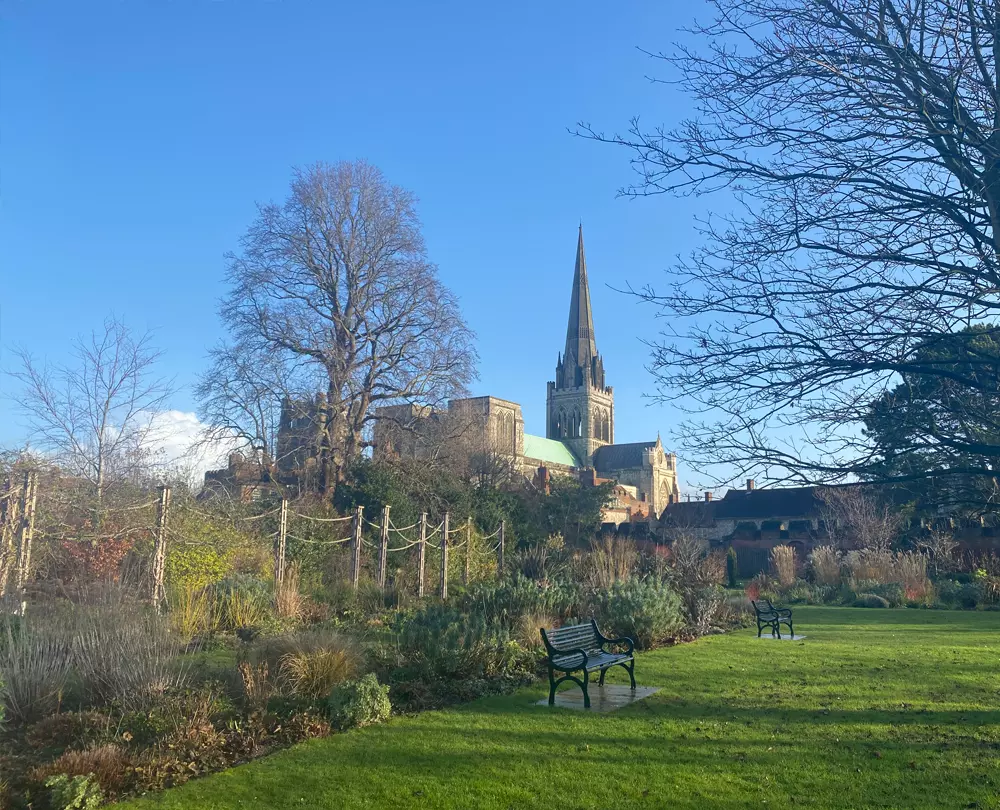 Priory Park
Priory Park is another very beautiful and tranquil park in the northeast of the city centre. One of the most spectacular parts of the park is the fact it is surrounded by the Roman walls, which you can walk along. In the summer months, you can also enjoy watching the cricket from the park. The park is used for many events within Chichester and is a great space to relax (bear in mind that dogs are not allowed within the park).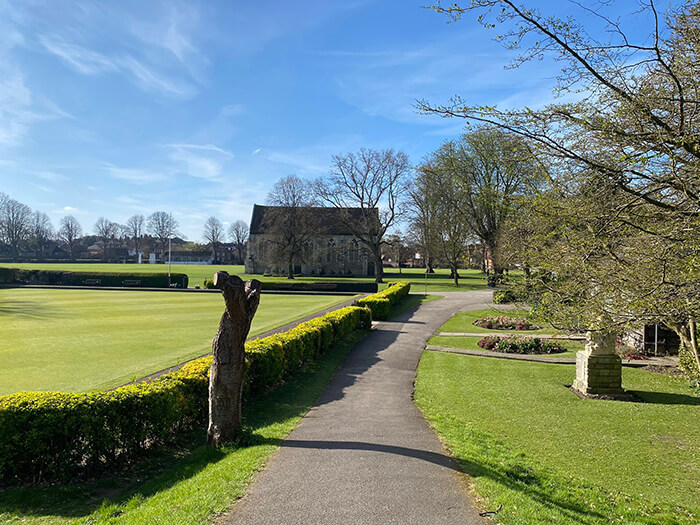 Shops
In terms of shopping, there is a good selection of high street stores but we also really enjoy independent shops such as Winter's Moon, Bunch (for flowers and plants) and Montezuma's chocolates.
There are also many cafes and restaurants in Chichester, whether you are after lunch, brunch, or just want a coffee & cake.
How to Get to Chichester
By Car – There are many car parks in Chichester – we usually park at Northgate Car Park, near Chichester Festival Theatre, but other car parks include Cattle Market Car Park, New Park Car Park, Little London, and Avenue De Chartres (amongst many others!).
By Train – Trains run approximately every 30 minutes from London Victoria, with the journey taking about 1 hour 32 minutes. The Chichester train station is a short 5-minute walk to the city centre.
Where Next? Places to Visit Near Chichester
Close by is the spectacular sandy West Wittering beach, which makes for a lovely peaceful walk and is ideal for sailors and beachgoers. East Head, just next to West Wittering, is a sand dune spit and is an ideal location to walk dogs.
The village of Singleton just nearby Chichester is also a very pretty village and home to the Weald and Downland Museum, as well The Partridge pub, and is also a lovely area for a walk as it is close to the River Lavant.
Nearby is the Fox Goes Free pub in the village of Charlton, which we have often visited combined with a walk up to Goodwood and Trundle Hill and then back down the hill to the pub via Knight's Hill Lane – which is just off where the footpath meets the bend at Kennel Hill (what3words ///direct.amazed.eyeliner).
Also, a short drive away is one of the most picturesque seaside villages – Bosham – which is home to the Arts and Crafts Centre that features many local artists, lovely places to eat, and a great place for a walk around Bosham Quay.
If you are visiting Sussex, then check out our list of towns and cities you can visit for more of our recommendations for places to go and things to do!
Local Events
Where to Stay in Chichester?
If you would like to feature your Airbnb, B&B, Hotel, or other accommodation with us, email info@discoversussex.org for our advertising options.