Cycling the South Downs Way (Mountain Bike)
This trail is one of the best cycle and walking trails in the country in my opinion. It is near enough 100 miles crossing some stunning scenery and is well punctuated with villages and, most importantly, cafes and pubs.
I have walked it, cycled it in three days, two days and one day and never get tired of it yet and I don't expect to. There are picture-postcard views at almost every turn and the seasons bring different perspectives to the hills.
 All the distances you need are provided to be able to work out your own itinerary. What I have added below are some thoughts and tips to make any journey along the SDW easier and more enjoyable.
If you have any questions about completing the route please contact us at info@discoversussex.org. We are more than happy to provide additional assistance where we can. Happy cycling!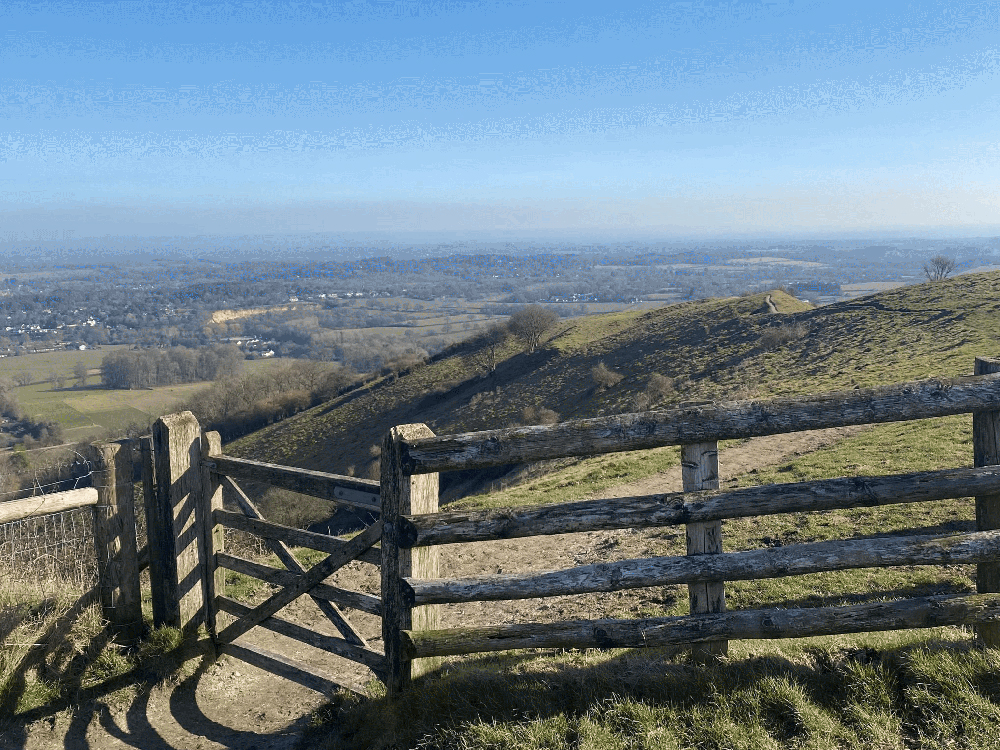 General Tips
Make sure your bike is properly serviced and in good condition. This is a tough trail and not one which should be undertaken on a poorly maintained bike. There are very steep ascents and descents.
Start early if going for one or two days – before 7am from King Alfred's statue in Winchester is a good idea.
Plan for a slower trip the larger the size of the group – there are more mechanicals, punctures, toilet stops, photo opportunities.
Decent tyres – the trail is rough in places, can be slippery if wet on exposed chalk and there is quite a lot of flint. A set of very good tyres is recommended, more grip is required when wet and muddy, if dry then a nice slick set might get you a fast time.
Spare tubes – always worth carrying at least a couple of spares and a repair kit. There are not many places on the route where you can go if you do suffer a few punctures.
Lights – if you are going for a one day thrash then just in case you get delayed a front light to finish the last climb might be helpful – it was for us!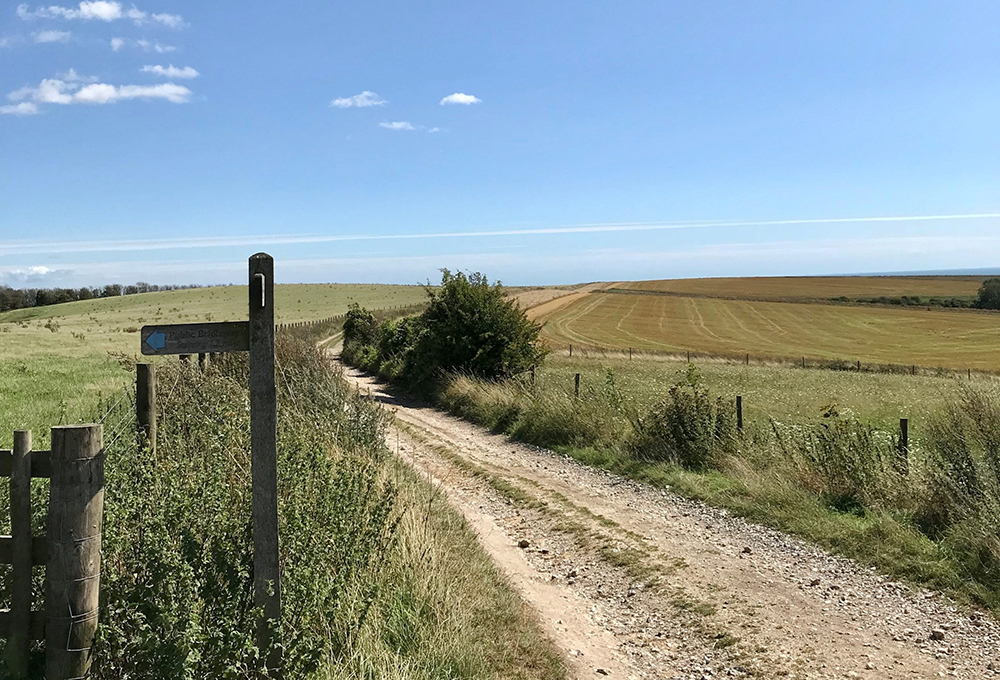 South Downs Way in a Day (Supported)
The ultimate day in the saddle! A brilliant day that you will never forget, but a hard day.
Our itinerary was as follows:

Our group was 5 in number, all experienced cyclists who had covered 100 mile plus days on road bikes. We managed to pick the hottest day in July 2021, the temperature peaked at 30 degrees and the sun shone relentlessly. There is quite a bit of tree cover to Bignor Hill, but after that, you are largely exposed to the elements.
We did not manage to keep to our itinerary above, largely down to multiple punctures between QE and Cocking and the heat ultimately slowed us down as we needed more fluid but I would maintain this schedule is about right for fit cyclists looking for a day out rather than just a blast from start to finish. Indeed, on a prior attempt, I finished the ride at Eastbourne at 8pm.
Cycling the South Downs Way Over 2 Days
The split I think for two enjoyable days is either to Amberley (48 miles) or to Washington (A24) at about 54 miles.
There are pubs, cafes and accommodation near Amberley.
Washington A24 is close to Storrington or Steyning.
Cycling the South Downs Way Over 3 Days
The sensible split for a three-day adventure is Cocking (36 miles) then on night two to get to Devils Dyke area or Lewes.
Accommodation near Cocking can be found at The Blue Bell at Cocking. Near Devils Dyke you can stay at the South Downs B&B.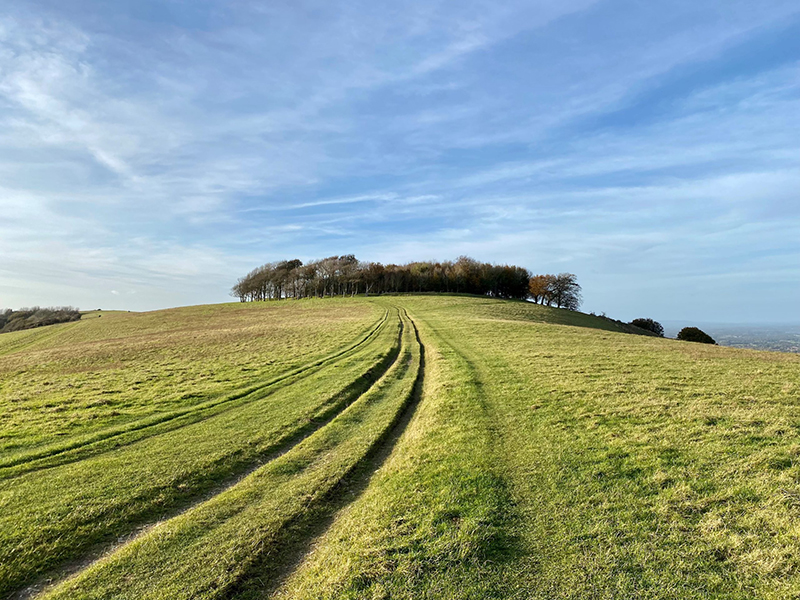 Cycle Friendly Accommodation
Some options for where to stay include:
The Blue Bell at Cocking
South Downs B&B
The Route
I am not going to describe the route in detail, just some of the memorable bits and some of the more difficult navigational bits – although to be fair it is generally well-signposted.
Leaving Winchester – this can be a little tricky and worth looking at on the map so you get a good start! Start at King Alfred's statue, head east on the main road, over the roundabout and then just before the river turn down a path that runs southwards alongside it for a few hundred yards.
Turn left onto Wharf Hill and then rise up the hill cross the main road into East Hill. Shortly after crossing the main road the road splits, take the right-hand fork into Petersfield Road which then continues straight for half a mile or so before a path takes you off to the right and over the M3. You then follow the path by the side of the main road round to the right until you come to Kings Lane on the right, this takes you down to Chilcomb. This section is different for the walkers – they carry straight on having crossed over the M3.
4 miles – Cheesefoot Head – your first climb with some excellent views back towards Winchester.
11.9 miles – Beacon Hill – down to Exton. On the bike use the road to descend.
15.7 miles – climbing Old Winchester Hill – this bit is very steep and I would suggest walking up it for the first 100 yds or so.
23.4 miles Butser Hill – fantastic grassy descent to Queen Elizabeth Park.
24.7 miles – QE Park – the route through QE is quite tricky and involves climbing up a steep hill towards Holt Down. Keep an eye on the GPS as very easy to pick up the wrong trail.
31.2 miles – having come down the hill from Harting Downs turn right by the fingerpost to wend your way round to climb Beacon Hill. Lovely grassy trail on the first section.
Graffham Down section between Cocking and the A285 is a lovely ride, plenty of meadow flowers and the trail is flat and fast after the initial climb.
After crossing the A29 dropping down to Amberley the path is quite chalky and quite slippery. Take care.
Amberley Mount climb – very tough. You can go around this section and meet up with the SDW after the initial climb.
Devils Dyke – don't head towards the pub on the horizon! That's not the SDW – it runs to the right of the pub.
Approaching Eastbourne – follow the route which crosses the main road down to Eastbourne and then works its way along the ridge before turning down the steep hill to Eastbourne.
South Downs Way Guide & Walking the South Downs Way
If you are looking to walk the South Downs Way, or want more information on where refreshments or water stops are on route, please check our South Downs Way Guide for more information!