Updated 2023
Car Parking
There is a new walker's car park accessed from Worthing Road slip road from the A24 and is seen on Google Maps. This car park is open from 7am -7pm and no overnight parking is allowed.
About the Knepp Estate
The Knepp Estate is located just south of Horsham and consists of 3,500 acres owned by the Burrell family for over 220 years. The land, since 2001, has been subject to a 'rewilding' project, using grazing animals and restoring natural water courses in order to increase wildlife in the area.
The rewilding project has seen an increase of rare species in the area, including nightingales, peregrine falcons, turtle doves and purple emperor butterflies. Isabella Tree, wife of Charlie Burrell who is the present owner of the Knepp Estate has documented the rewilding process in her book 'Wilding'.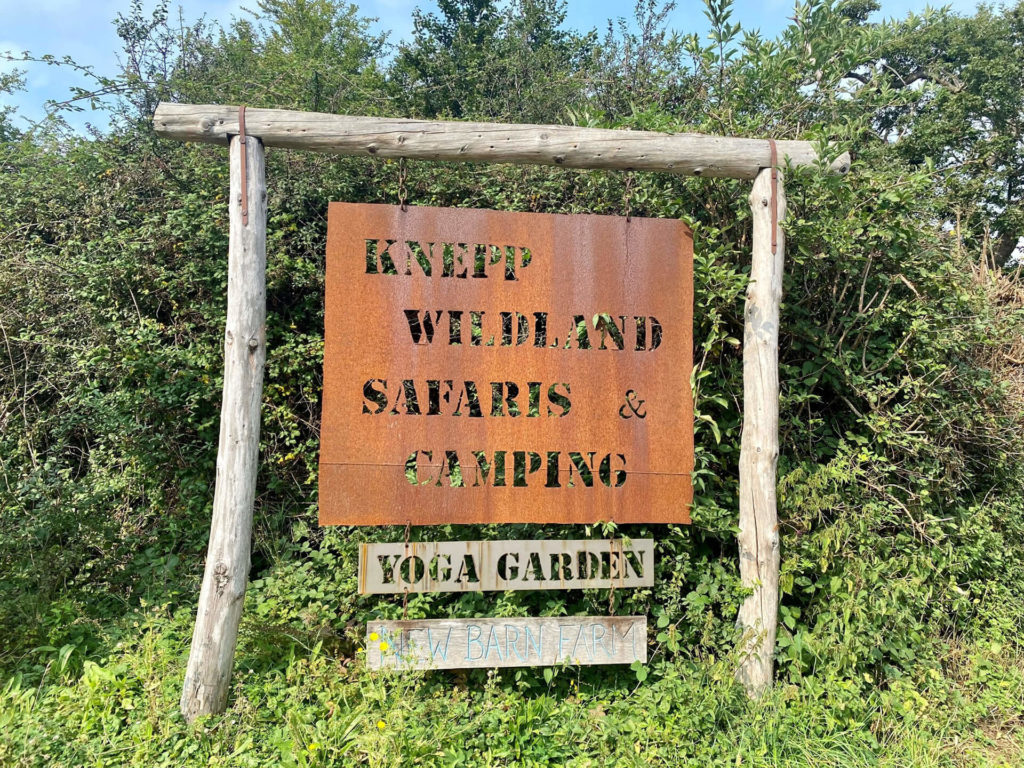 Walking Routes
There are a number of public footpaths that cover 16 miles of the Knepp Estate, allowing you to see the effects of the rewilding project up close. There are also five tree-viewing platforms allowing you to see panoramic views of the surrounding countryside.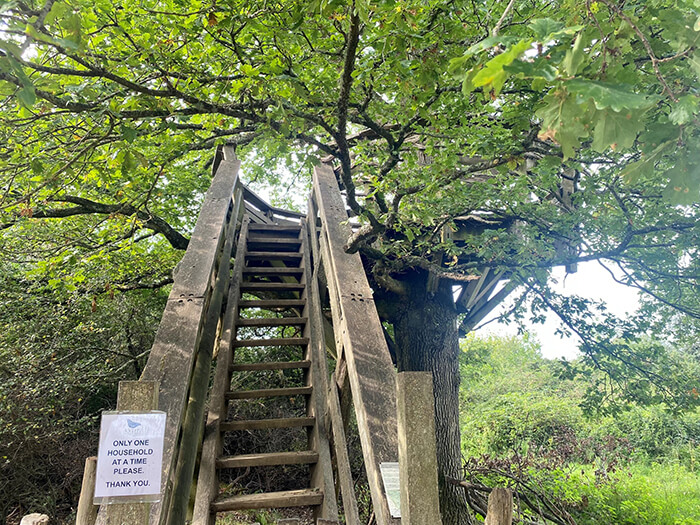 Knepp Walking Map
Knepp Estate has kindly provided a walking map with four different routes mapped out, all of which start and end at the designated car park (see below). The public footpath signs around the Knepp Estate have been helpfully colour-coded to help assist with following the routes.
The blue route is the shortest at 2.2km, followed by the yellow route, which is approximately 3.4km (2.1 miles) long. There is also an orange route and a red route, which is the longest at 10km. Knepp Estate kindly asks that you stick to the designated footpaths to prevent disturbing the rewilding project.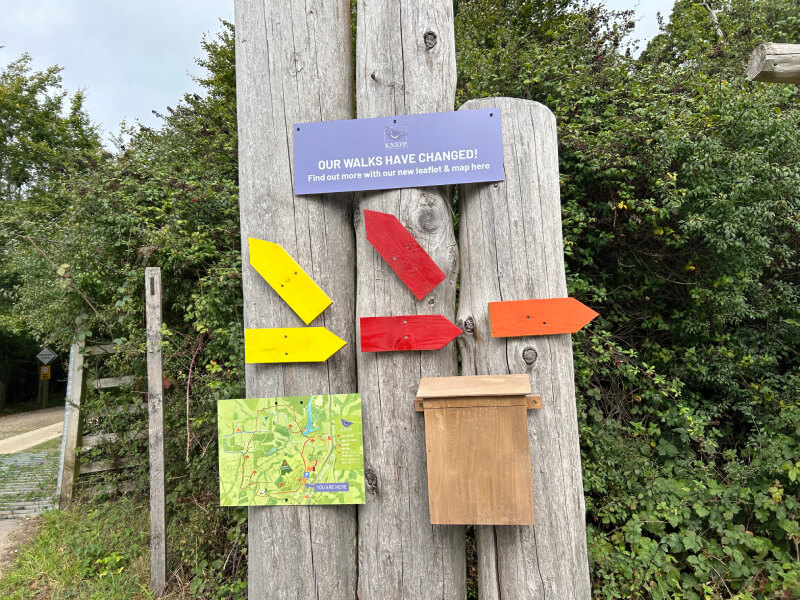 The orange route is the only route that takes you over to the Knepp ruin. The red route also passes through the lovely Shipley village, home to the Shipley Windmill (where Johnathon Creek was filmed!).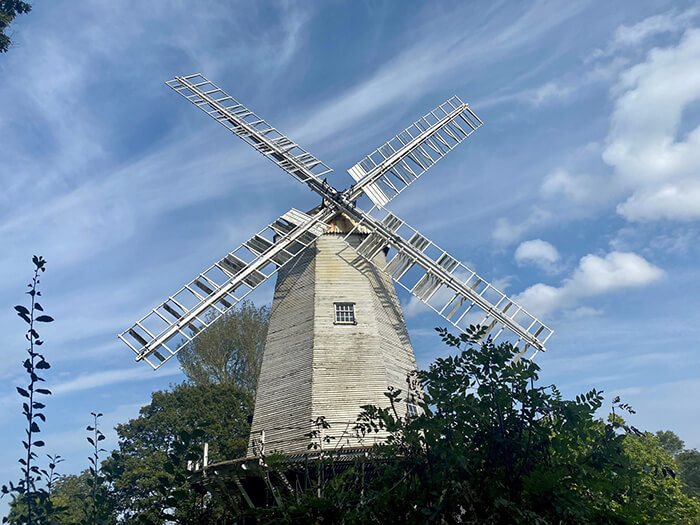 Shipley village is also home to St Mary's Church, which is a lovely 12th-century church, making it one of the oldest Norman churches in Sussex.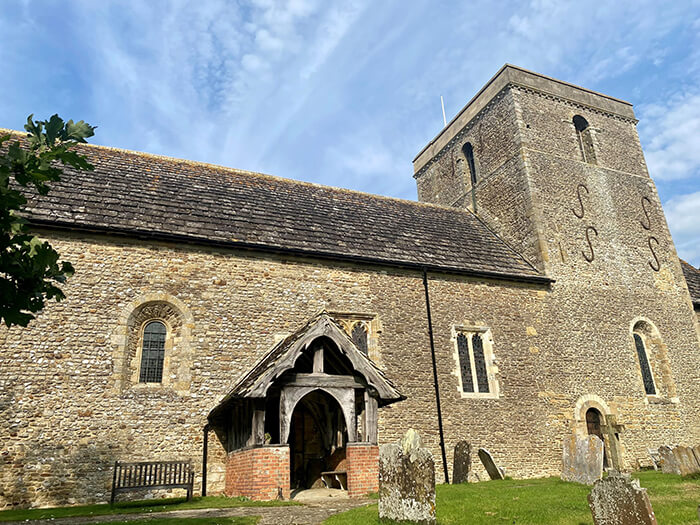 Free-Roaming Animals
There are a number of free-roaming animals within the Knepp Estate, including cattle, ponies, and pigs, so keep your eyes peeled for these on your walk.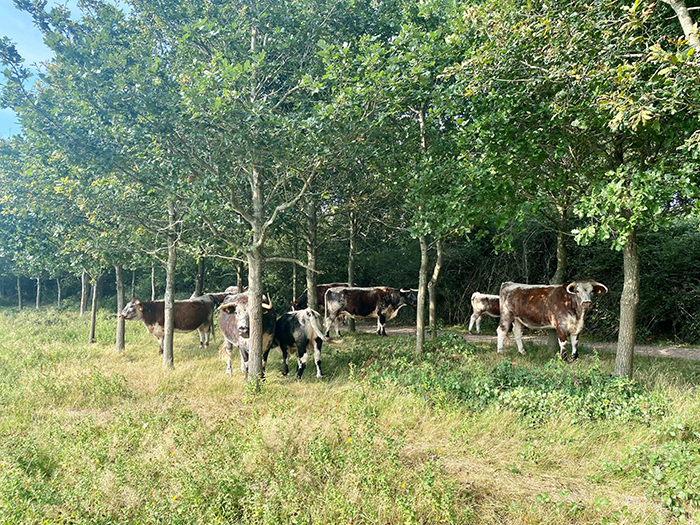 Storks
There is now a live stream of the Stork's nest on Knepp Castle. The White Storks were once a breeding bird of Sussex and Knepp, along with other sites, are helping to bring the population back. More information about the White Stork Project can be found here.
Knepp Safaris
There are a number of safaris around the Estate to choose from including the bats and moths safari, butterfly safari, dusk safari, dawn safari, and wild horses safari. Find out more about these and how to book on their website.
Knepp Camping
If you fancy staying longer to explore the Knepp Estate, then there are plenty of overnight stay options. Choose from shepherd's huts, bell tents, yurts, and treehouses or you can pitch your own tent in a wildflower meadow. Each pitch comes with an upcycled firepit, and there are two eco-friendly flushing loos and three hot water rain showers on the campsite. Find out more about the overnight options and how to book on their website.
Refreshments and Facilities
At the car park, is where the Wilding Kitchen and Shop is located, serving produce from their new Market Garden and their own Wild Range meat. The cafe is in a beautifully restored barn and there is plenty of seating outside too, perfect if you have come with your dog! They serve breakfast, lunch, and light bites/cakes in the cafe and they also have a restaurant which is open Wednesday – Sunday. Don't forget to visit the shop before you leave for beautiful gifts and produce!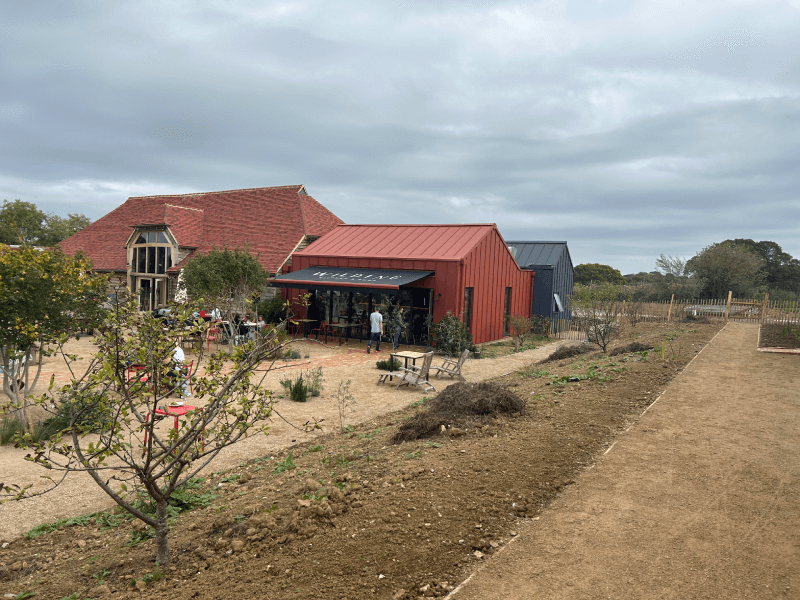 Things To Do Near Knepp
While visiting the Knepp Estate, why not check out some other things to do in and around Horsham. We've listed some of our favourite things to do for inspiration, as well as cafes in Horsham if you are looking for refreshments.