We've listed some stunning walks for you to enjoy in the winter in Sussex that also combines a pub or cafe along the way!
Chanctonbury Ring – 5 miles
The highest Point is 230 m
Intermediate Hiking Tour. Mostly accessible paths. Sure-footedness required.
Park at Chanctonbury Ring, Washington, and from here you walk upwards onto the South Downs Way. You can do a circular walk from here which also includes refreshments at Chalk, at Wiston – there is a coffee van there selling hot drinks, cakes, and sandwiches. The views from Chanctonbury Ring are beautiful at all times of the year, but there is something lovely about the sunset, low light, and frost at this time of year when on the South Downs.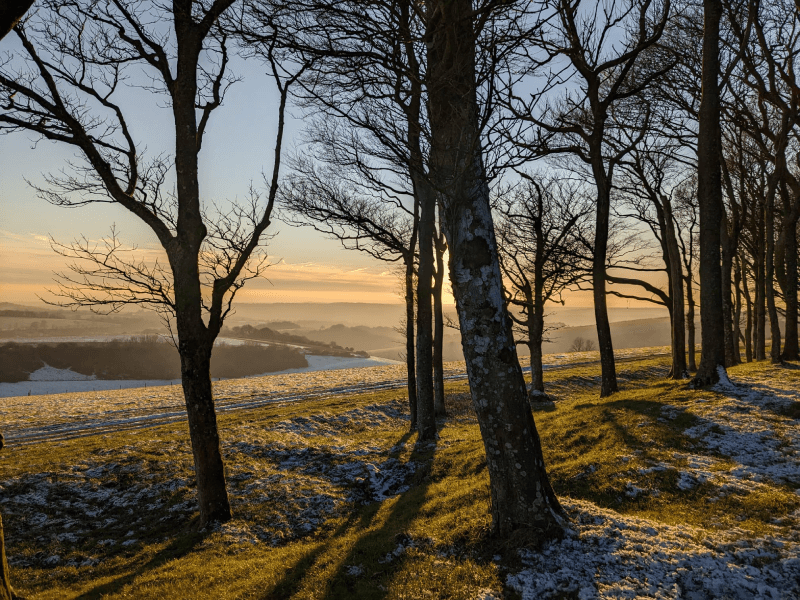 Cocking & Flint Barn Cafe – 2.7 miles
There is a good car park at Cocking, just off the A286. From the car park, head left up the South Downs Way and you will pass Flint Barn Cafe on your left. If you are looking for stunning views of the county, then this is ideal as it is just a straight path uphill and you can walk for as long as you like.
In this walk, we turned off left and followed the footpath back left to rejoin the original path (if you don't want to just turn around) so it adds a little loop.
You can eventually follow the South Downs Way to Harting Down if you kept going. This is a lovely walk on a warm summer evening as you can appreciate a lovely sunset and the views all in one but is equally great in winter as it is not super muddy and generally just a stony path!
Lurgashall Loop, near Petworth – 2.3 miles
We did this Lurgashall walk in winter and it was extremely wet when we walked it as it had been raining non-stop but was a lovely peaceful walk with great views of the quaint village of Lurgashall.
However, this is ideal because it is a walk that starts and ends at the Noah's Ark pub, so you can appreciate a cosy pub and delicious food – highly recommend it!
The walk is a mix of fields and woodland and a country lane at the end – ok for small dogs but there were a number of styles that were not particularly friendly for big dogs. The woodland was particularly wet when we walked it, so it is recommended to wear boots or wellies if it has been raining.
The walk takes about an hour and is relatively easy, with only a few steep steps in one section and a number of styles to climb over.
Petworth Park
We recently walked from Tillington, near Petworth into Petworth Park and through the park to the town. Petworth Park is an ideal winter walk location as you can appreciate Petworth House and the deer in their winter glory. We walked to the Hungry Guest shop, where you can pick up a takeaway coffee and cake to enjoy on the way back!