Skip to content
Cowdray and Midhurst River Rother Circular Walk
Cowdray and Midhurst River Rother Circular Walk
Distance – 14.7km – 9.17 miles    Difficulty – Medium
Parking: Cowdray Farm Shop & Cafe or any of the car parks in Midhurst
Pub: The Three Moles, Selham
This walk starts at Cowdray, although you can start and end anywhere in Midhurst. It takes you across the Cowdray Estate and the Golf Club, the beautiful village of Lodsworth and then across the road to Selham and Ambersham before returning back to Midhurst along the River Rother. The Three Moles pub is a lovely quirky pub in Selham and around halfway on the walk and they do a wide variety of food including pizzas and have a lovely garden.
The walk is largely flat and also the terrain is mostly country lanes once you pass Selham, so the ground isn't particularly muddy. It also covers a bit of woodland and the golf course.
Things to Spot
Queen Elizabeth I Oak is about 800–1,000 years old and is within Cowdray Park. As you come through the golf course and then through a wood following the footpath signs, the walk takes you up through a tree-lined path just after Stewards Pond. The Queen Elizabeth Oak is just to the left of the pond before you go up the path.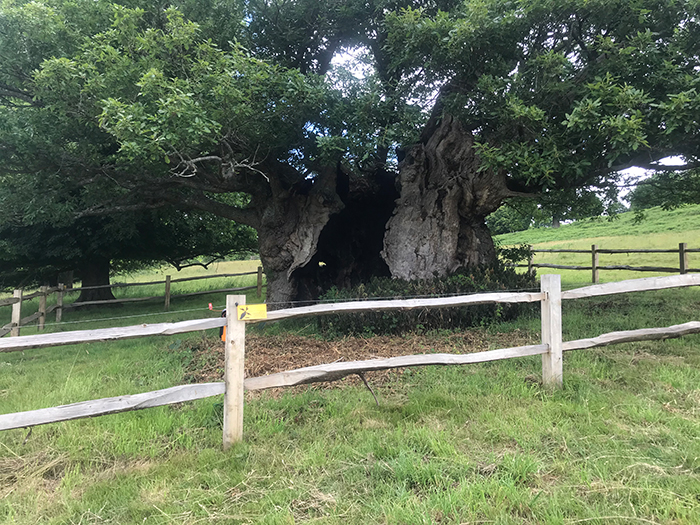 Route Map
You will need the OL33 Haslemere & Petersfield map
Wildlife/Plants
Lots of lovely Broom during June! We also saw lots of butterflies as you head back to Midhurst and foxgloves. There are lots of trees, including lime trees as you pass through Cowdray Park.