Skip to content
Monarch's Way
About the Monarch's Way
The Monarch's Way is based on the rather lengthy and haphazard route King Charles II took during his escape in 1651 after defeat by Cromwell in the Battle of Worcester. The route commences in Worcester and finishes in Sussex, at Shoreham-by-Sea before King Charles II fled to France. It is the second-longest signed walking trail in Britain.
What is the trail route?
The 625-mile (1,606km) long-distance trail begins at Powick Bridge in Worcester and passes through Stratford upon Avon, the Cotswolds and the Mendip Hills, before travelling down to the South Coast and finishing in Shoreham-by-Sea. The entire route is waymarked in each direction by a small white disc displaying an image of the 'Surprise' ship, or by larger green signposts.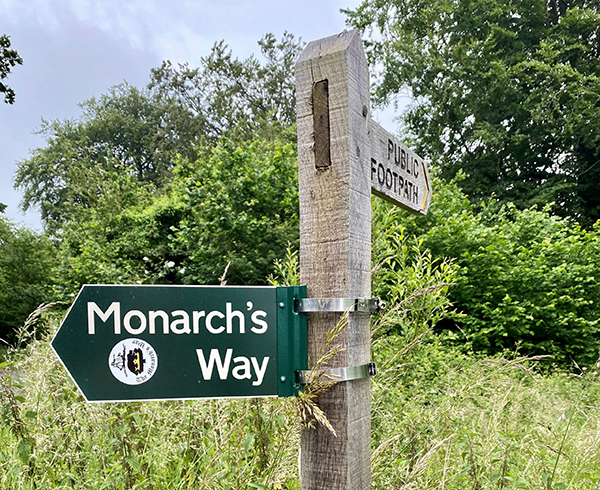 If you are just planning to walk the Sussex section of the Monarch's Way, it enters the county along with the Sussex Border Path at Stansted Park in Stoughton. From here it passes through West Dean and over Trundle Hill offering panoramic views of Goodwood Racecourse. The route then heads through the pretty villages of Charlton and East Dean before heading to Houghton. After passing through Houghton, the route heads south through Arundel Park towards Arundel, before heading east towards Findon. From Findon, the route continues east to Bramber and then south to finish at Shoreham-by-Sea.
Order a Trail Guide
There are a series of 3 guide books that split out the walk into Worcestershire & Midlands, The Cotswolds, Mendips and the Sea and The South Coast, the Downs and Escape! Each book costs £10 or you can purchase all 3 for £25.50 which includes postage and packaging. See the Monarch's Way website for details on how to order a guidebook.
If you have tackled some or all of the Monarch's Way, we would love to hear your experiences! Please send us a message on our contact form or send us a message on Instagram!