Skip to content
Pubs & Restaurants
If you are looking to combine a Sussex pub with a hearty walk, then we've listed some of our favourite places to eat and enjoy the Sussex countryside. Sussex is not short of quaint pubs, delicious food and beautiful countryside so it isn't too hard to enjoy a nice day out! To make it a little easier to decide where to go, take a look at our suggestions below.
As well as our favourite pubs with suggested walks, we've also listed a few other places we enjoy eating and are well worth trying when looking for places to eat in Sussex.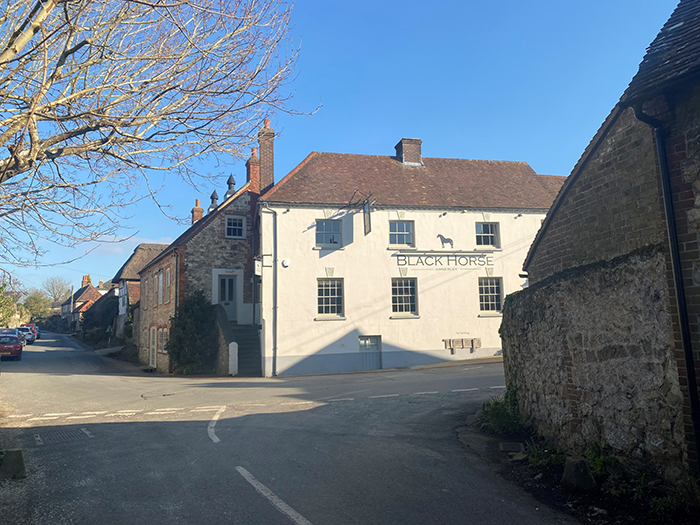 The Amberley Black Horse
The Amberley Black Horse is also relatively new to the scene, which opened at the end of 2018. It is located in the beautiful village of Amberley, nestled in the South Down's National Park. The pub has 11 bedrooms, a tastefully decorated restaurant, a private dining room, bar and dining terrace and garden.
They serve a range of British classics, serving seasonal food and changing their menu regularly. We would recommend one of Johnnie's pies, which is served with the creamiest mashed potato! They have a great range of cocktails, or if ale is more your scene, why not try their 'Amberley's Ale', a blonde bitter made just up the road in Petworth.
Address: High Street, Amberley, West Sussex, BN18 9NL.
Suggested Walk: Our Amberley Brooks walk is 9.5km or 5.9 long and begins at the pub and takes you on a circular route through the Amberley Brooks and past the Greatham bridge.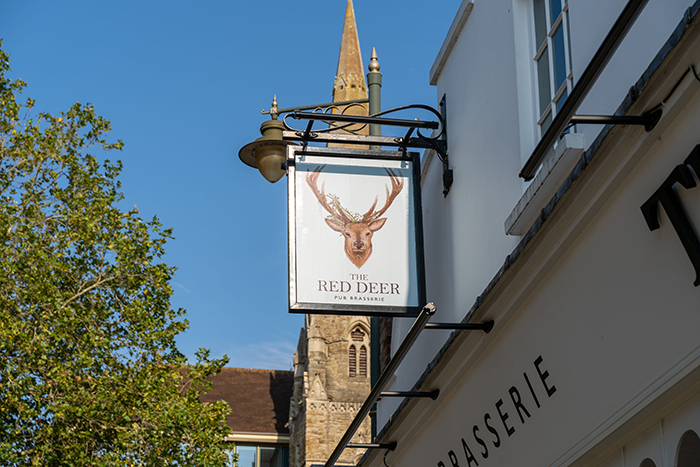 The Red Deer
The Red Deer is a new pub on the scene, opened in 2019 in Horsham town centre. They serve a mixture of French seasonal dishes and some British pub classics and have a range of locally-brewed ales and beers, wines and cocktails to complement their dishes. They also serve some fantastic Sunday roasts and indulgent desserts!
It is located just by the Carfax, near to the Bandstand and it is dog friendly.
Address: 24D Carfax, Horsham, RH20 1EE.
Suggested Walk: Our Chesworth Farm walk is 5km or 3.1 miles long which starts at the Carfax by the pub and takes you on a circular loop down to Chesworth Farm and back across Denne Park.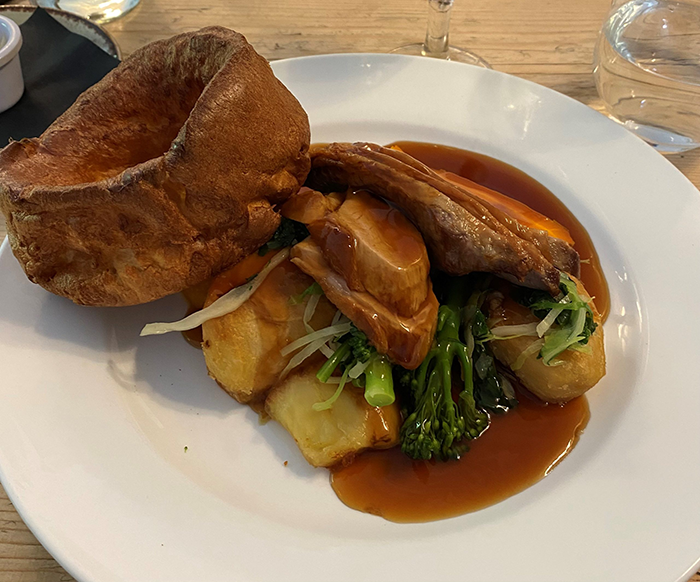 The George at Burpham
The George is located in the small pretty village of Burpham, just 2 miles from Arundel, which has some spectacular views of the South Downs. The pub serves modern British food with their own twist, which includes some traditional dishes and some more seasonal dishes which are changed regularly. They also dish up a fantastic roast, most importantly served with a very generous Yorkshire pudding.
Address: Main Street, Burpham, Arundel, BN18 9RR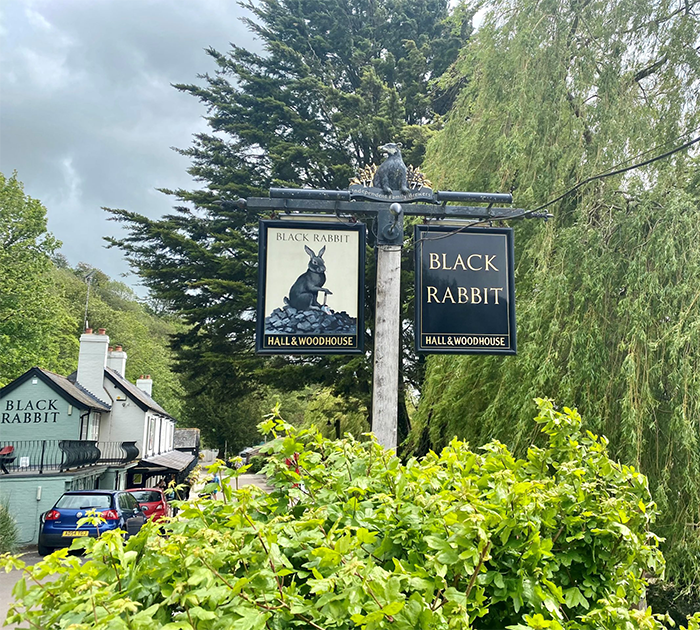 The Black Rabbit
The Black Rabbit has arguably the best views in Sussex, situated next to the River Arun with views over towards Arundel Castle. There is plenty of crowd-pleasers on the menu to choose from, including fish & chips, pies, steak frites and a good selection of burgers but they also serve some more unique dishes depending on which mood you're in. They also serve up a great Sunday lunch with unlimited Yorkshire puddings and gravy – we're sold!
Address: Mill Road, Arundel, West Sussex, BN18 9PB
Suggested Walk: Our Arundel Park – River Arun walk is 9km or 5.6 miles long and commences just down the road from the Black Rabbit at Swanbourne Lake. The walk takes you through Arundel Park before heading over to the pretty village of South Stoke and back towards the Black Rabbit.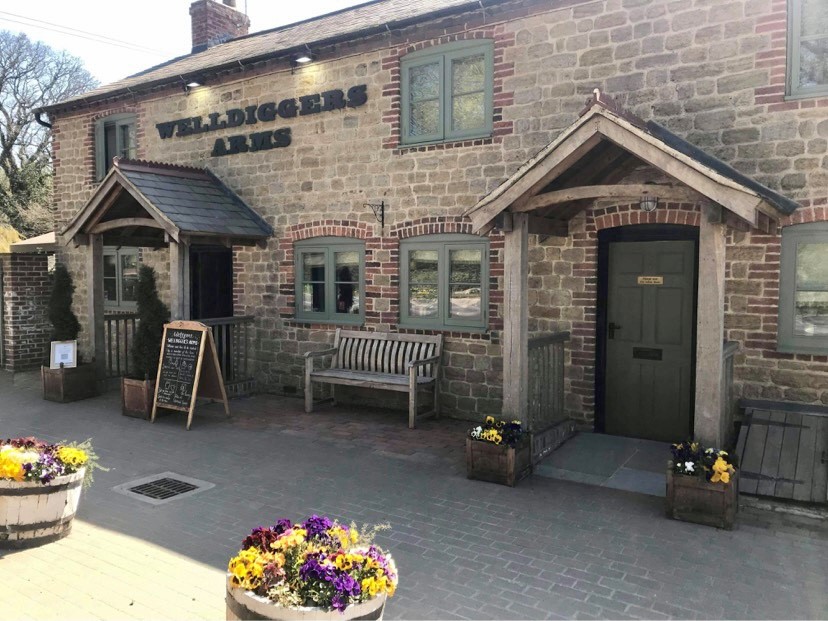 The Welldiggers Arms
The Welldiggers Arms is a 300 -year-old country pub located just outside Petworth which boasts beautiful views over the South Downs. They serve locally sourced British cuisine from their open kitchen, and the menus are changed on a regular basis.
The Welldiggers Arms also has 14 rooms if you wish to stay overnight and spend longer exploring the area!
Address: The Welldiggers Arms, Low Heath, Petworth, West Sussex, GU28 0HG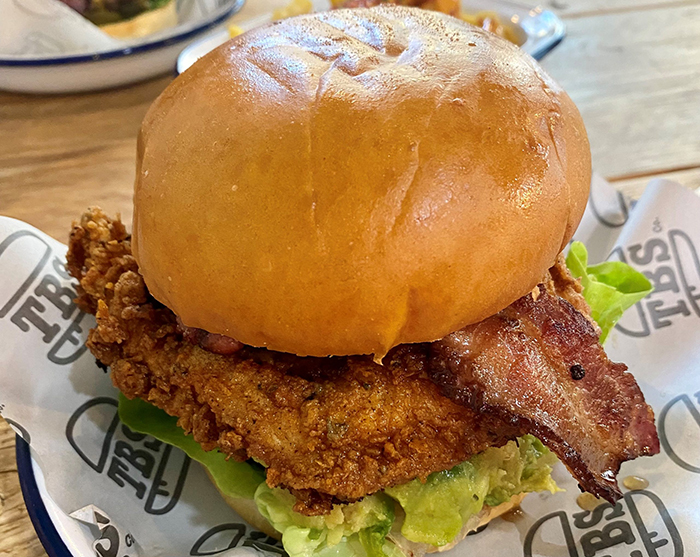 The Burger Shop Co.
The Burger Shop Co. which has a branch in Arundel has opened a new branch in the up-and-coming Piries Place in Horsham opposite the Everyman Cinema. Tuck into a range of beef, chicken and vegetarian and vegan burgers alongside some delicious sides (we recommend the bacon fries!). Wash this down with a shake, craft beer or one of their tasty cocktails.
Address: The Burger Shop Co., Piries Place, Horsham, RH12 1EH
Suggested Walk: Our Chesworth Farm walk is 5km or 3.1 miles long which starts at the Carfax, just next to Piries Place and takes you on a circular loop down to Chesworth Farm and back across Denne Park.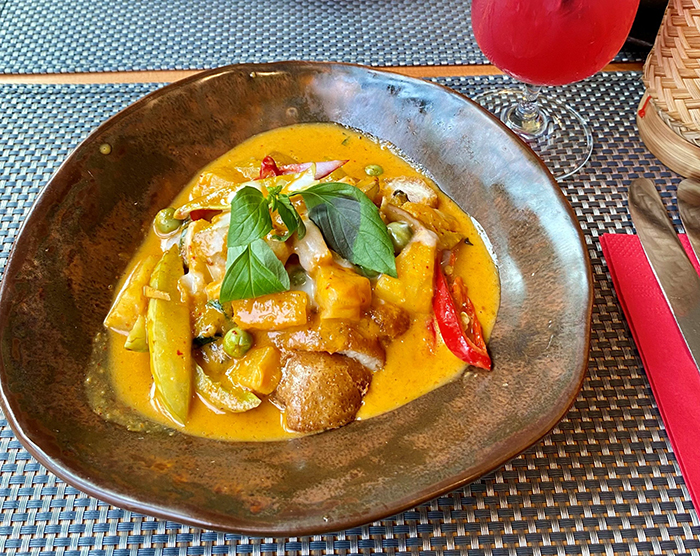 Giggling Squid
Whilst we know Giggling Squid is a well known chain, we love their food and so believe it is worth a mention here! Located on Horsham East Street (other locations include Brighton, Chichester, Hove) they serve a delicious range of Thai food in their beautifully decorated restaurants. Choose from a range of curries, stir fry, pad Thai plus their Thai inspired cocktails and desserts. Our personal favourite is the rising star red duck curry!
Address: Giggling Squid, 1b East Street, Horsham, RH12 1HH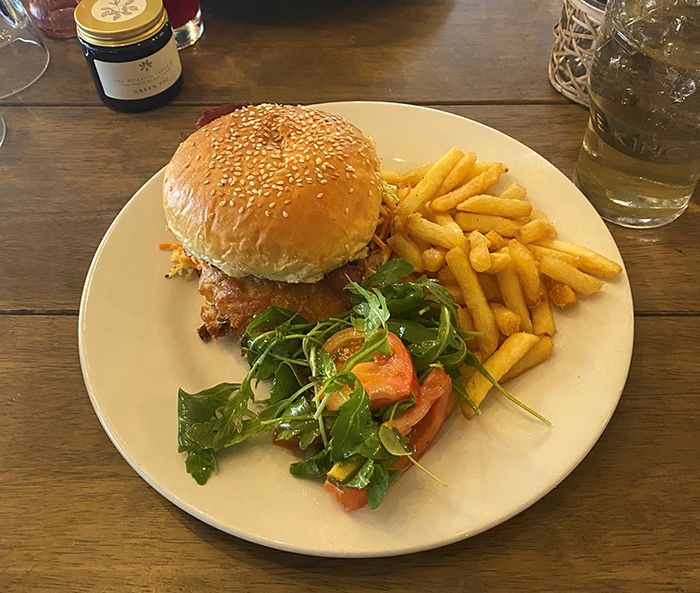 The Noah's Ark Inn
Set in the picturesque village of Lurgashall, the Noah's Ark Inn is a beautiful 16th century pub serving up delicious seasonal dishes. There is seating indoors or you can sit outside with views across the village green – you may even catch a view of a cricket match!
Address: The Noah's Ark Inn, The Green, Lurgashall, West Sussex, GU28 9ET